Emerging Advocates Program



We support and train individual advocates.
Everyone should have the opportunity to live in a safe, healthy, affordable home. Unfortunately, many people all over Washington have stories of denied opportunity, housing instability, and how poor policies have contributed to homelessness. No one can tell these stories like someone who's lived it. The Housing Alliance supports people who have experienced homelessness or housing instability in advocating for positive policy change.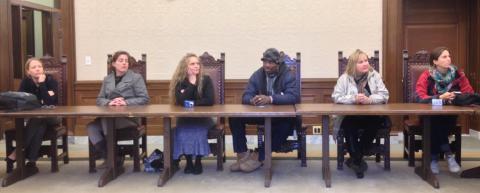 Emerging advocates in Olympia learning about the intricate process of pulling a bill from committee to the floor.
Advocacy has a tremendous impact. According to Representative Gael Tarleton (36th - Seattle), "Advocacy is critical in making government work...Advocates bring the stories of how people will be impacted by the budget...We need to know what that really means for our community and we need advocates to do that. And remember, messages with a personal story stand out the most."
Advocacy skills are easy to learn. The Emerging Advocates Program provides people who have experienced homelessness or housing instability with training and support to effectively make their voices heard in an advocacy context, while developing skills helpful in any environment. 
The Emerging Advocates Program offers: an on-the-ground introduction to the state capitol and the basics of the legislative process, deeper knowledge of key issues, support in developing your advocacy messages, experience contacting legislators, connections to the affordable housing and homelessness advocacy movement, and other opportunities depending on each advocate's interests.
New for 2017: Emerging Advocates training can be completed at your own pace, by working to develop an advocacy skillset with support from Housing Alliance staff. While individually-based, the program includes a range opportunities to connect with other advocates. Contact program coordinator Alouise Urness alouise@wliha.org to get started*
*We currently have capacity to work with 10 Emerging Advocates at a time on their initial skillset development. If there are already 10 active participants when you apply and you meet the program criteria, you can sign up to be contacted once there's an opening.
Priority will be given to individuals with personal experience of homelessness who are interested in engaging in legislative advocacy at the state level.
Here's what a few participants had to say after completing Emerging Advocates training workshops:
"You have helped me see that I can do something about homelessness and about affordable housing disappearing. This program has helped me put all the tools together to make this mission possible. I believe that together we can make a difference."
-Susan Russell

"This program helped me learn more about the legislative process and how to advocate, and gave me more knowledge about public speaking and meeting with policymakers. I especially enjoyed the trip to Olympia."
-Nick Reyes

"The Emerging Advocates Program has made a huge impact on my advocacy for affordable housing because up until I took this class, I didn't really know what advocacy was. I'd known something was wrong and needed to change, but I just assumed that the issues were beyond our grasp. This class taught me otherwise. It lit a fire under me to realize all the negative policy change that is going on, and it gave me the tools to do something about it."
-Jenyfer Reese

"I've realized that I'm an expert on poverty and homelessness because I've been there. Also, actually caring is a priceless asset in social justice work, and I have that in spades. I'm inspired, motivated, and now have a few ideas to put my values into action."
-Rebecca Snow Landa




Matthew Anderson, EAP graduate, leading a workshop on Housing and Homelessness issues.