Emerging Advocates Program


We support and train individual advocates.
Everyone should have the opportunity to live in a safe, healthy, affordable home. Unfortunately, many people all over Washington have stories of denied opportunity, housing instability, and how poor policies have contributed to homelessness. No one can tell these stories like someone who's lived it. The Housing Alliance supports people who have experienced homelessness or housing instability in advocating for positive policy change.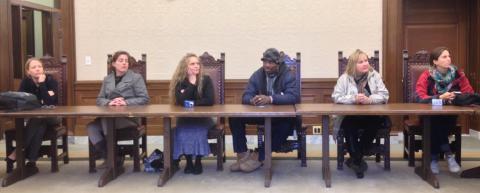 Emerging advocates in Olympia learning about the intricate process of pulling a bill from committee to the floor.
Studies show most people are unfamiliar with the legislative process and how they can get involved. Legislative advocacy, supported by the Housing Alliance, can be an easy and effective way to engage in that process. Your personal story helps ensure that legislators prioritize opportunities for safe, healthy, affordable homes. Advocacy has a tremendous impact. According to Representative Gael Tarleton (36th - Seattle), "Advocacy is critical in making government work...Advocates bring the stories of how people will be impacted by the budget...We need to know what that really means for our community and we need advocates to do that. And remember, messages with a personal story stand out the most."
Advocacy skills are easy to learn. The Emerging Advocates Program provides people who have experienced homelessness or housing instability with training and support to effectively make their voices heard in an advocacy context, while developing skills helpful in any environment. Workshop topics generally include:
Policy advocacy basics
Effective storytelling for advocacy
Using social and traditional media for advocacy
History of homelessness, current affordable housing policy, and other homelessness issues
Voter engagement in your community
Much, much more!
"When I learned how easy it is to be heard by my representatives, I also realized that all those life experiences I was so good at minimizing were exactly the stories the elected officials needed to hear."


-Thomas Green, advocate who helped pass the Fair  Tenant Screening Act











Housing Alliance staff and guest presenters support participants in learning these subjects in a hands-on, practical setting. The program is offered free of charge, and we work with participants to help address barriers related to transportation and other basic needs. The Emerging Advocates Program also offers periodic day trips to Olympia for a more direct look at the legislative process, a chance to become familiar with the capitol campus, and even a casual conversation with a legislator or legislative staffer.
Priority will be given to individuals with personal experience of homelessness, especially those who are interested in engaging in legislative advocacy at the state level.
Here's what a few participants had to say after completing Emerging Advocates training workshops:
"You have helped me see that I can do something about homelessness and about affordable housing disappearing. This program has helped me put all the tools together to make this mission possible. I believe that together we can make a difference."
-Susan Russell

"This program helped me learn more about the legislative process and how to advocate, and gave me more knowledge about public speaking and meeting with policymakers. I especially enjoyed the trip to Olympia."
-Nick Reyes

"The Emerging Advocates Program has made a huge impact on my advocacy for affordable housing because up until I took this class, I didn't really know what advocacy was. I'd known something was wrong and needed to change, but I just assumed that the issues were beyond our grasp. This class taught me otherwise. It lit a fire under me to realize all the negative policy change that is going on, and it gave me the tools to do something about it."
-Jenyfer Reese

"I've realized that I'm an expert on poverty and homelessness because I've been there. Also, actually caring is a priceless asset in social justice work, and I have that in spades. I'm inspired, motivated, and now have a few ideas to put my values into action."
-Rebecca Snow Landa




Matthew Anderson, EAP graduate, leading a workshop on Housing and Homelessness issues.

Click here to read about the Fall 2013 session of the Emerging Advocates Program from the perspective of program organizer Alouise Urness.
Click here to read about the Spring 2015 session of the Emerging Advocates Program at the Conference on Ending Homelessness.
Question? Contact Alouise Urness at alouise(at)wliha(.)org for more information. When emailing, please change "at" to "@" and delete the parentheses. This helps us prevent spam.