Become a Member
Join over 140 organizations across Washington State committed to ensuring everyone has the opportunity to live in a safe, healthy, affordable home!
Advocacy works!
We've made great progress! The legislature continues to invest in the Housing Trust Fund and has passed several bills to create new funding sources for housing, services, and mental health facilities, in addition to new tenant protections. This type of progress happens because Housing Alliance members are persistent, organized, strategic, and raise a collective voice from across the state. 

We must maintain this momentum looking forward to 2017. 

To welcome new voices to our movement, we've re-aligned our dues levels based on an organization's budget or number of housing units/vouchers. As always, these dues amounts remain suggested, and we are grateful for your support at any level. In response to requests from our supporters, we've also created an individual membership category. Individuals can also participate by joining our action network or making a financial contribution. 

Organizations that administer Consolidated Homeless Grant funds are asked to join as County Homelessness members. Contact andyll@wliha.org for more information.

Member dues support advocacy for the Housing Trust Fund, Document Recording Fees, the Housing and Essential Needs program, and many other services that your organization and your community rely on.
Thank you for joining our movement for a safe, healthy, and affordable home for everyone in Washington!
To join as an organizational member:
 - Find your organization type, which determines your suggested annual dues: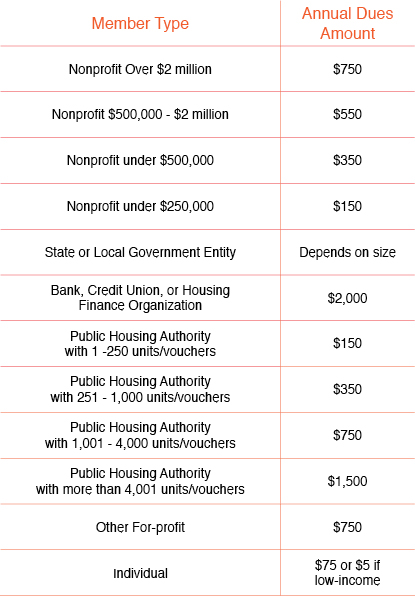 Or
   Washington Low Income Housing Alliance
Attn: Membership
1411 Fourth Avenue, Ste 850
Seattle, WA 98101
 - Did you know you can make your LIHTC nonprofit contribution to the Housing Alliance?  Learn more here.