Community members rally to support legislative action on affordable housing crisis and underfunded mental health services
Posted June 8, 2015 - 11:15am
Joaquin Uy, Communications Specialist
Advocates from all over the state converged in Olympia on Monday, June 8 at 11am for a public hearing on newly introduced House Bill 2263. This bill will give local governments more options to address housing needs for people with mental illness, developmental disabilities, homeless families and youth, veterans, seniors, and domestic violence survivors.
As the state's affordable housing and mental health crises have gotten worse, community leaders have been calling on legislators to respond. House members have come together to introduce HB 2263 that empowers local governments to create new resources for housing and mental health services in their communities.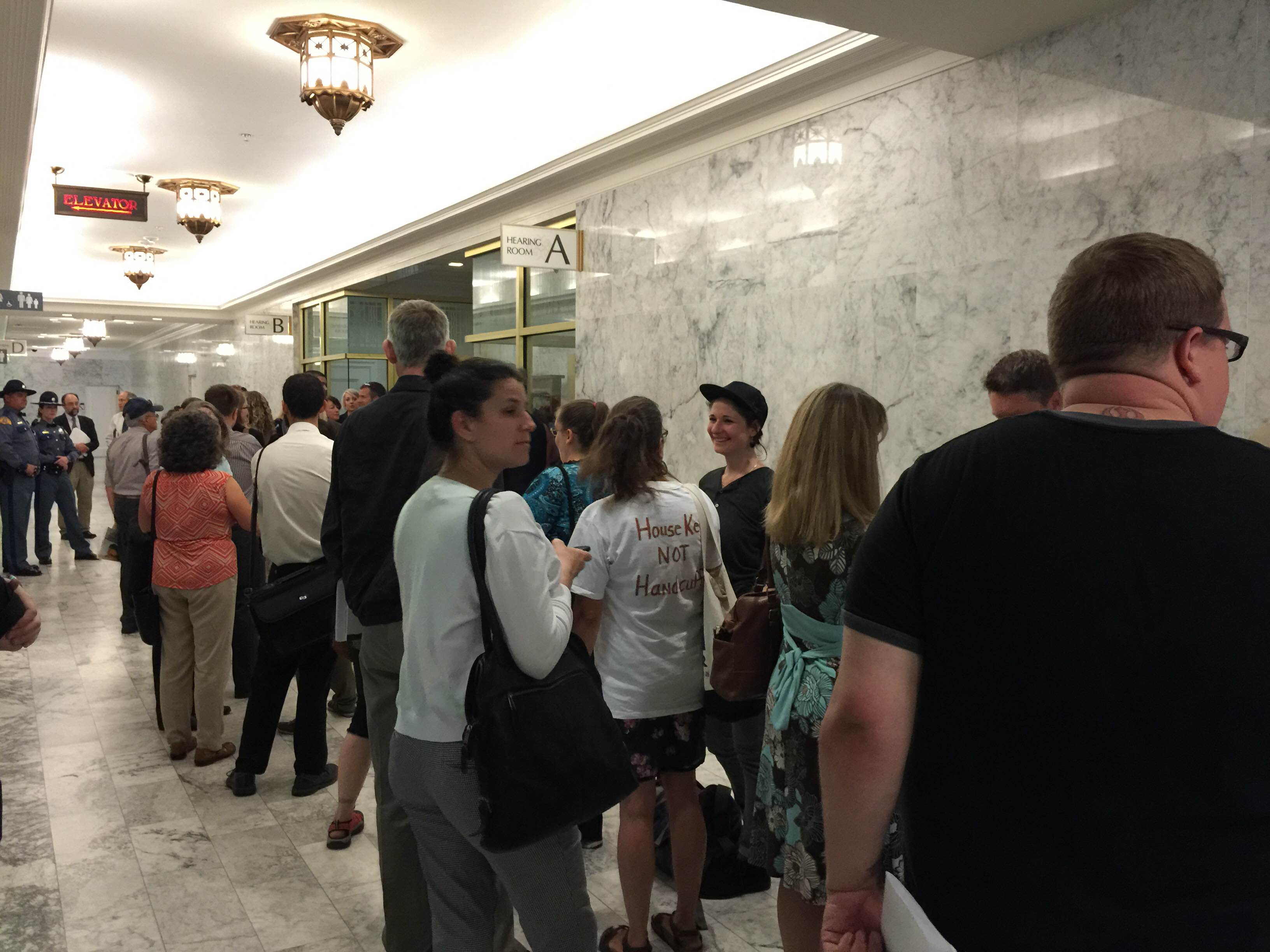 The line of HB 2263 supporters clogged the
main hallway in the John L. O'Brien Building.
HB 2263 (Springer) expands on SB 5463 (Hill) by adding a component to allow counties and cities to address local affordable housing and mental health needs. Like the Senate bill, it also provides a "cultural access" component. HB 2263 creates an option for local communities to implement a new 1/10 of 1% sales tax to fund affordable housing, mental health treatment facilities, and services. If passed, counties are then empowered to enact this local option that would create a new funding source to serve vulnerable populations. Local implementation requires a county legislative body vote and allows for cities to implement if the county does not pass the option within two to three years depending on the size of the county.
"The legislature is in overtime as lawmakers struggle to reach agreement on how to address our states most urgent issues," says Housing Alliance executive director Rachael Myers. "We are impressed that Representative Larry Springer and other House leaders are using this time to ensure our state does all it can to meet people's most basic needs like housing, mental health care, and basic services that ensure people don't become homeless when a crisis hits. We implore all state lawmakers to follow the lead of Representative Springer and his fellow bill sponsors to pass HB 2263 quickly and finalize a budget fully funding safety net services that prevent households from experiencing the brutality of homelessness."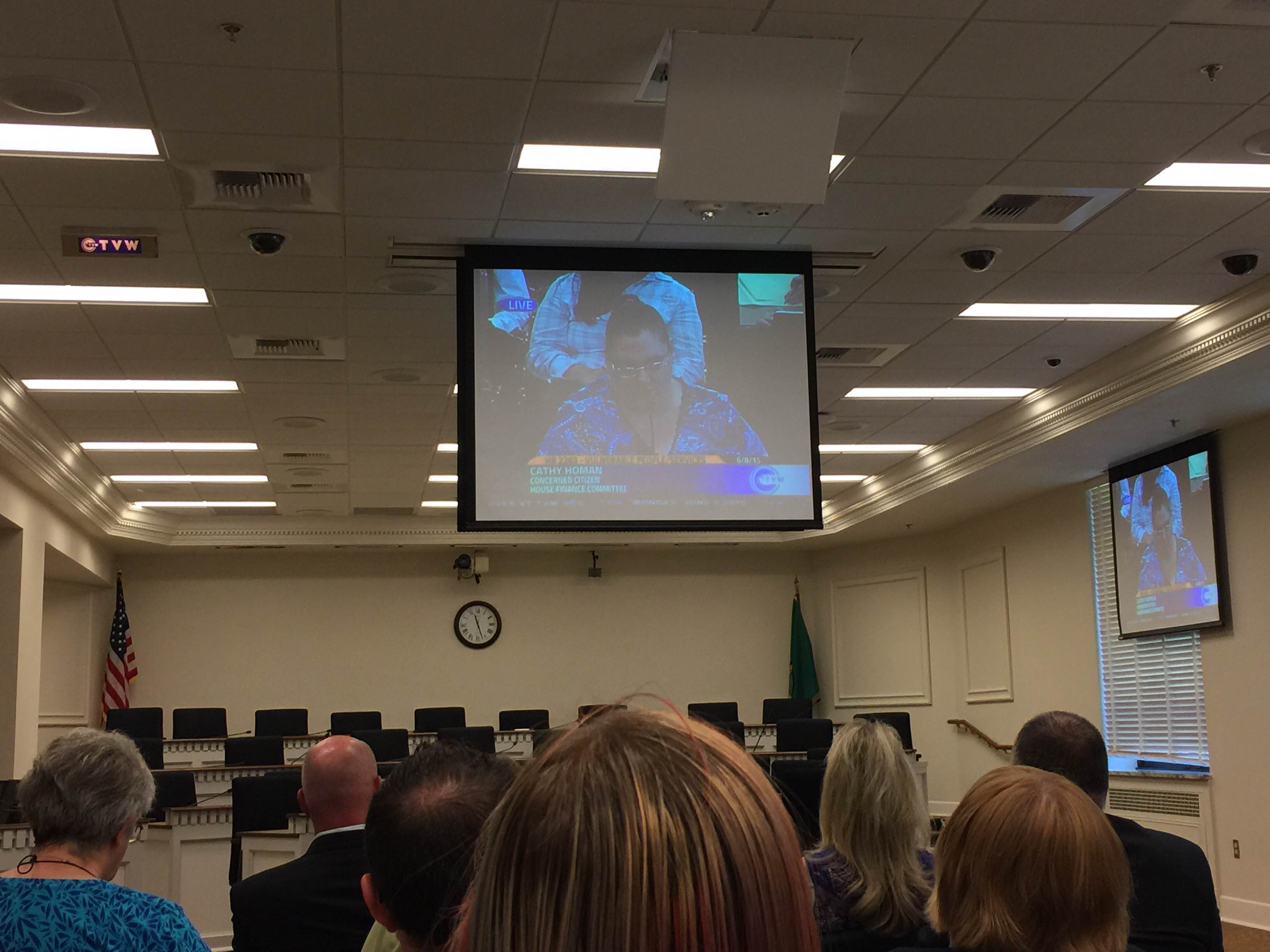 Hearing Room B was one of two full hearing chambers that served as overflow rooms for the HB 2263 hearing.
This local option has a precedent. It is similar to the Mental Illness and Drug Dependency tax (MIDD) implemented in 2005 (RCW 82.14.460). MIDD generated $96.6 million statewide in 2014 and has been enacted by 23 local jurisdictions including Walla Walla, Whatcom, King, and Skagit counties.
This bill comes at a time when our communities need more resources. According to the National Low Income Housing Coalition, Washington is too expensive for our average income renters. The amount a household needs to earn to afford a modest rental home in this state has jumped by 10% or more from last year in Franklin, Benton, Pacific, Clallam (11%), San Juan (14%), Snohomish (26%), and King (26%) Counties.
Thought leaders across Washington recognize the strong link between the lack of affordable homes and other critical issues facing our communities, including chronic homelessness, health disparities that burden low-income households, and gaps in educational attainment that follow students who experience homelessness and housing insecurity. Many calling for the immediate passage of HB 2263 testified on Monday, with many other advocates in attendance to support. The people coming for the HB 2263 hearing filled three rooms, demonstrating the widespread support and need for a new source of funding for mental health programs and affordable housing.
You can still voice your support for HB 2263! Go here for instructions on calling the legislative hotline and advocating.
Community leaders calling for passage of HB 2263 include: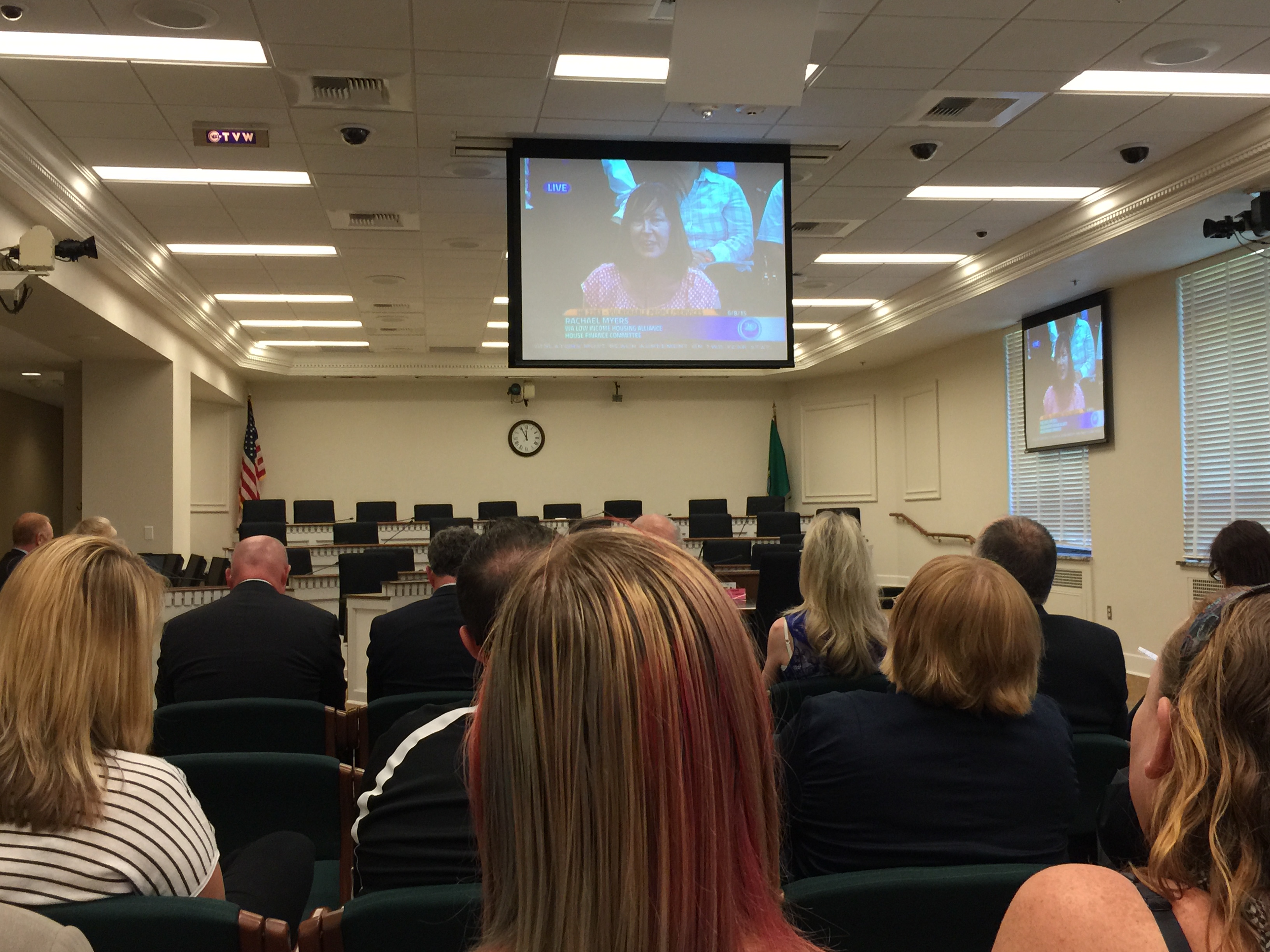 A packed hearing room watching Housing Alliance ED Rachael Myers speak in support of HB 2263.
Sonya Campion, Campion Advocacy Fund
Access to safe, affordable housing is a serious issue in our state. I am happy to see a proposal that allows communities to invest in providing homes for the most vulnerable people in our neighborhoods—youth, families, veterans, the elderly, and disabled. This is an important first step to ensuring that everyone has a safe place to call home.
Joe Cunningham, King County Family Coalition, Arc of King County
The amount and availability of affordable housing for people with developmental disabilities is woefully inadequate, and the amount spent is far short of what's needed. This comes at a time when the needs for housing for individuals with developmental disabilities are at an all-time high. This bill would provide local communities with a much-needed tool for addressing the shortage.
Dr. Darin Neven, Spokane Hot Spotters Community Action Group Medical Director & Emergency Physician
Housing is one of the most effective treatments available in medicine. Unfortunately, doctors cannot write a prescription for housing. This legislation will create the opportunity for counties to fund housing for the vulnerable homeless patients that need a housing prescription filled.
Michael Ramos, Church Council of Greater Seattle
Generating proactive and creative options to fund mental health and homelessness services is an imperative for our state at this time. A local sales tax option will help to address the urgent need for more programs and services for our fellow neighbors who are very low-income and very vulnerable.
David Webster, Department of Early Learning & Family Services, Opportunity Council, Whatcom County
Washington has made significant investment in early learning and is poised to deepen its commitment. I wholeheartedly support that wise investment. That said, there are no issues that undermine my staff's good work with young children more than homelessness, frequent household moves to cope with housing affordability, and family mental health issues. Children are simply hard-pressed to learn and develop in a healthy fashion under the oppressive weight of homelessness and family mental illness. HB 2263 will provide the tools for communities to address these potent barriers to healthy child development and learning. It seems a wise insurance policy for our state as it deepens its resolve to see all children off to a good start.
List of official HB 2263 endorsers here:
All Saints Community Services - Puyallup

Ally Community Development - Seattle

The Arc of Spokane Home Ownership Opportunities Program - Spokane

Association of Washington Housing Authorities - Spokane

Beacon Communities - Tacoma

Beacon Development - Seattle

Bellingham Housing Authority - Bellingham

Blue Mountain Action Council - Walla Walla

Building Changes - Seattle

Campion Advocacy Fund - Seattle

Capitol Hill Housing Foundation - Seattle

Catholic Charities Housing Services - Yakima

Church Council of Greater Seattle - Seattle

Community Action Council of Lewis, Mason & Thurston Counties - Lacey

Community Frameworks - Spokane

Compass Housing Alliance - Seattle

Council for the Homeless - Vancouver

CUE Services, LLC - Vancouver

DESC - Seattle

El Centro de la Raza - Seattle

Emergency Support Shelter - Longview

Enterprise Community Partners - Seattle

Faith Action Network - Seattle

Friends Committee on Washington Public Policy - Olympia

Food Lifeline - Western Washington

Futurewise - Washington

Homes First! - Lacey - Olympia

Homestead Community Land Trust - Seattle

Housing Authority of Grant County - Moses Lake

Housing Consortium of Everett & Snohomish County - Everett

Housing Authority City of Kennewick - Kennewick

Housing Authority of Grant County - Grant County

Housing Development Consortium of Seattle/King County - Seattle

Housing Resources Bainbridge - Bainbridge Island

Imagine Housing - East King County

Impact Capital - Seattle

Inland Empire Residential Resources - Spokane

The Illumination Project - Seattle

Interfaith Task Force on Homelessness - Bellevue

Key Property Services, Inc. - Vancouver

King County Coalition Against Domestic Violence - King County

King County Housing Authority - King County

Longview Housing Authority - Longview

Lopez Community Land Trust - Lopez Island

Low Income Housing Institute (LIHI) - Seattle

Member of Peninsula Poverty Response - Pacific County

Mercy Housing Northwest - Seattle

Multi-Service Center - Federal Way

National Association of Social Workers - Washington Chapter

Next Step Housing - Yakima

Northwest Council of Jewish Women - Seattle

Partners for Our Children - Seattle

Okanogan County Community Action Council (OCCAC) - Okanogan

Okanogan County Housing Authority - Okanogan County

Olympic Community Action Programs - Port Townsend

Opportunity Council - Bellingham

Pacific County Housing Authority - South Bend

Parkview Services - Shoreline

Peninsula Poverty Response - Ocean Park

REACH - Vancouver

Real Change - Seattle

Rebuilding Together South Sound - Tacoma

Renton Housing Authority - Renton

Rural Community Assistance Corp

SAGE Architectural Alliance - Seattle

San Juan Community Home Trust - Friday Harbor

SEIU 775 - Seattle

SEIU Healthcare 1199NW - Seattle

Seattle Housing Authority - Seattle

Seattle/King County Coalition on Homelessness - Seattle

Share - Vancouver

Shelter Resources, Inc. - Bellevue

SMR Architects - Seattle

Solid Ground Washington - Seattle

Spokane Low Income Housing Consortium - Spokane

Statewide Poverty Action Network - Seattle

Tacoma/Pierce County Affordable Housing Consortium - Tacoma

TONKIN Architecture - Seattle

Triumph Treatment Services - Yakima

United Methodist Church, Seattle District - Seattle

Valley Cities - Auburn

Volunteers of America - Spokane

Washington State Coalition Against Domestic Violence - Olympia

Washington State Community Action Partnership - Olympia

Washington State Hospital Association - Seattle

Washington Low Income Housing Alliance - Seattle
---