Be a Housing Voter
2. Pledge to be a Housing Voter!
3. Participate in the Primary Election August 1! It's important that you vote in your state and local races, and don't forget about ballot measures!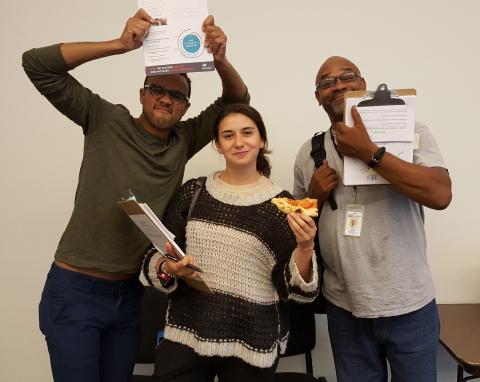 IMPORTANT DATES:
Aug 1 - PRIMARY ELECTION
Oct 9 - Deadline to register by mail or online, or update your registration for General Election
Oct 30 - Last day for in-person voter registration for General Election
Nov 7 - GENERAL ELECTION

4. Take it to the next level!
Be a volunteer: Participate in a Get Out the Vote (GOTV) outreach event and help us call or door-knock other housing voters. Contact teresac@wliha.org. 
 
Attend a candidates forum: Elevate affordable homes and an end to homelessness in this year's election. Put your questions to the candidates, find out more about how they plan to tackle these urgent issues, and be an informed voter.
 
---
The Reality
Advocating for affordable housing and an end to homelessness is made more effective when community members who care about and are impacted by these issues are active and regular voters.
Elected officials and candidates know who votes and who doesn't. The more engaged a community is, and the more often they vote, the higher a priority they become.
Historically, community members experiencing homelessness, and those living in low income housing do not vote, in part because of systemic barriers, and in part because they are not encouraged to participate, or don't know where to start. 
Housing residents and community members experiencing homelessness are directly impacted by the decisions made in Olympia.
It is time they are heard. It is time they are served.
The Solution
Registering housing residents and community members experiencing homelessness to vote empowers those community members to get involved and influence the decisions that directly impact their lives and communities. 
Increasing the number of homeless and housing community members who vote, strengthens advocacy efforts locally and in Olympia. 
Nonprofits are empowered by the law to participate in specific civic engagement efforts, including voter registration. 
The Housing Alliance can work with member organizations and partners to create Voter Engagement Plans, individualized strategies for increasing registered voters in your community. Voter Engagement Plans have the following components:
1. Voter Registration and Engagement
Register new voters
Update voter registrations
Educate community members about their voting rights
Support the Housing Alliance's door knocking efforts at one or more residential properties
2. Pledge to Vote Postcard Campaign
Securing pledge-to-vote cards from housing community members who are registered to vote, in order to demonstrate to elected officials that these communities are engaged and care about the issues, particularly policy decisions impacting housing and homelessness.
3. Get Out the Vote (GOTV)
GOTV engages newly registered voters and lapsed voters to vote and mail in their ballots.
Reminders: email, postcard, signage, etc.
Events: ballot parties, phonebanks, community canvasses, etc.
To create a Voter Engagement Plan for your organization, contact Teresa Clark at teresac@wliha.org.