Historic gains for affordable housing this legislative session!
Posted July 2, 2015 - 4:32pm
Michele Thomas, Director of Policy and Advocacy
This past Wednesday night was more than a good night. It was an astonishing testament that advocacy works. Since January, over a thousand of you took action again and again. You told lawmakers to not leave town until they had done everything possible to expand access to affordable housing and to end homelessness. They heard your message!
Big Wins for HEN/ABD and TANF
In the dramatic hours before the end of the state's fiscal year, Washington lawmakers secured significant new state dollars for affordable homes. And they passed several bills that will create new funding sources for housing, services, and mental health facilities. Further, the final state operating budget, signed into law at 11:30 Tuesday night, includes full funding for the Housing & Essential Needs (HEN) and the Aged Blind & Disabled (ABD) programs. And it funds many other important priorities, including a nine percent increase in the TANF (Temporary Assistance for Needy Families) cash grant!
$75 Million for Affordable Homes!
But wait, there's more! Lawmakers also passed a capital budget that provides $75 million for affordable housing and $15 million for weatherization of homes owned by low-income homeowners. The $75 million for the Housing Trust Fund will create nearly 2,000 homes for seniors, homeless families, people with developmental disabilities and mental illness, veterans, homeless youth, and more. It will also create 500 new safe, healthy beds for farmworkers.
HB 2263 Creates a Local Option for Affordable Housing and Mental Health Services
If you are not already jumping up and down, consider that lawmakers also passed HB 2263 late Wednesday night. This bill provides local communities the option of asking their voters to support a new tax for affordable housing and mental health facilities. Those funds could also be used for operations and maintenance needs as well as homeless services. A similar local taxing authority for mental health services brought in nearly $100 million across the state in 2014 alone.
Check out this video of nonprofit board members from around the state testifying for HB 2263!
Funding for Affordable Homes Near Transit
And that's not all! Lawmakers also passed SB 5987. This transportation package includes significant new dollars for affordable housing and services in the Puget Sound region. The bill requires that at least $20 million be provided for affordable housing near transit. It also establishes that 80% of the surplus properties in light rail stations must be made available for affordable housing. Additionally, an amendment by Representative Jessyn Farrell (46th LD, Seattle) creates a funding source for the Puget Sound region of up to $518 million for services to improve educational outcomes in early learning, K-12, and higher education. This includes, but is not limited to low-income, homeless, or foster care youth.
These new dollars for the Puget Sound region are on top of the victory earlier in the session via Representative Larry Springer's (45th LD, Kirkland) HB 1223. This bill secured at least $45 million for new affordable housing in transit areas.
A Big Win for Permanent Supportive Housing!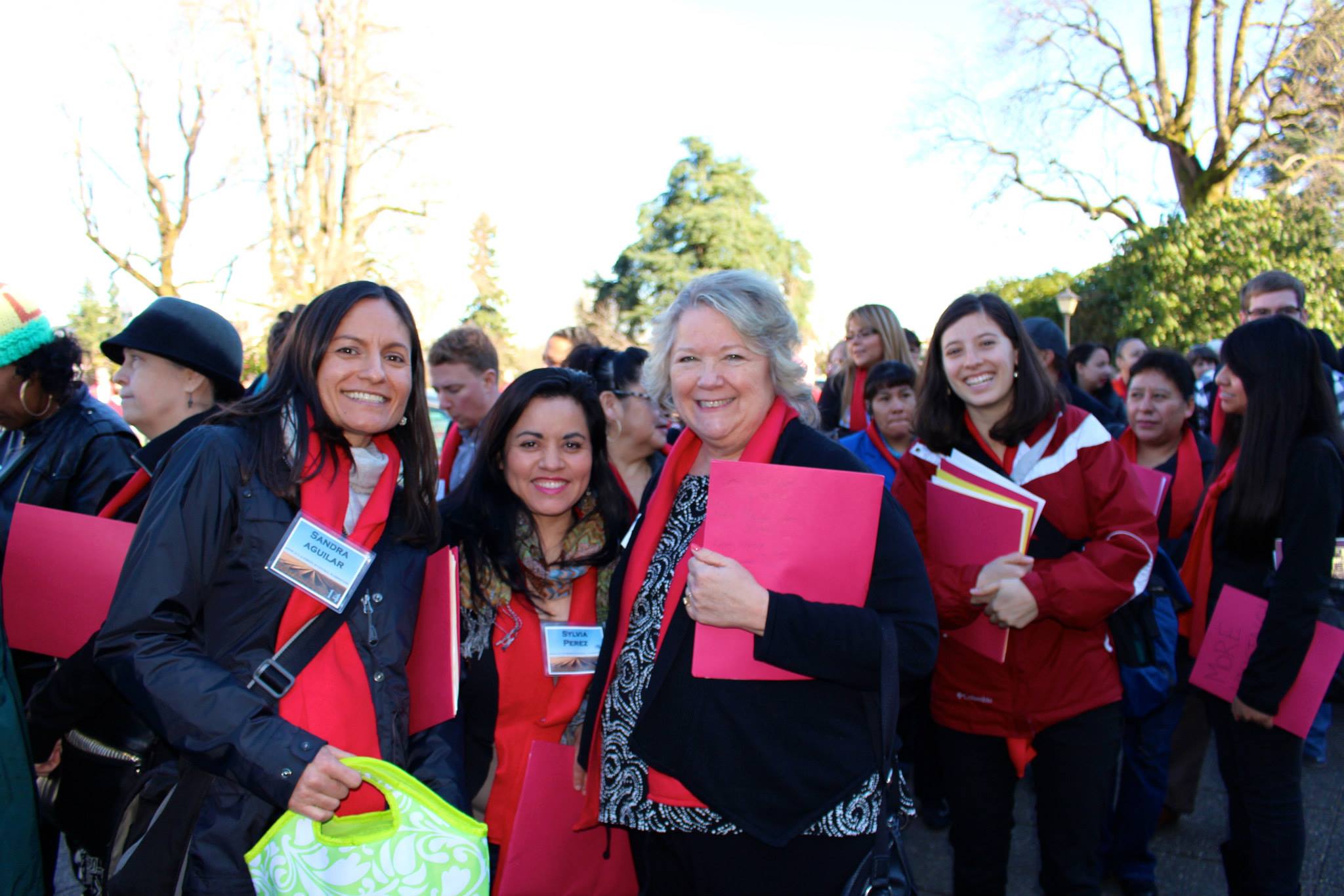 Whether you attended Housing and Homelessness Advocacy Day earlier this year, or met with your legislator or their staff in-person, or sent an advocacy email supporting our legislative agenda, you helped make this session historic!
In addition to all the great legislative news, the Housing Alliance recently received this info: the state's Health Care Authority is submitting a federal waiver request to the feds that includes the ability for our state to use Medicaid funds to pay for the medically necessary services delivered in permanent supportive housing. This was a top legislative priority for the Housing Alliance this year! Even more, the federal government issued a bulletin late last week confirming that Medicaid dollars can be used for these services.
All Because of You...
All of this great news means new resources are coming to our communities to create affordable homes and fight homelessness. And it couldn't be at a more important time. You told your lawmakers to do more and they listened.
Thank you for your advocacy.
There is more to do, and we hope that you will continue to join us as we work to build on these victories in the 2016 legislative session.
Stay tuned. We'll have an opportunity for you to thank lawmaker champions and please plan now for in-district advocacy opportunities this summer and fall. Consider inviting your lawmakers to your board meeting or to tour affordable homes built with state dollars. The Housing Alliance can assist you in your advocacy efforts, including with getting your board involved with advocacy! It works, let's keep it going!
---