Housing and Homelessness Advocacy Day

2015 Housing & Homelessness Advocacy Day
Tuesday, February 17, 2015 in Olympia, Washington
Advocacy Day registration opens December 8, 2014.
Please check back to register and for updated information about Advocacy Day 2015!
---
Click a link below to jump to that section:
---
About Housing and Homelessness Advocacy Day (Advocacy Day)
An Advocacy Day (a.k.a. "Lobby Day") is an organized event, usually at the legislature, where constituents can meet their elected officials to inform on and advocate for specific legislation and policies. Each year, the Washington Low Income Housing Alliance organizes one of the largest Advocacy Days during the legislative session. This January, you have an opportunity to be a part of this very important day of action!
We're looking for people passionate about ensuring that everyone in Washington has the opportunity to live in a safe, healthy, and affordable home. Housing and Homelessness Advocacy Day is a chance for you to unite with others to end homelessness in our state. Are you ready to join over 500 other advocates from around Washington to tell your elected officials how you feel?
If you are ready to take fighting homelessness to the next level, then please join the Housing Alliance on Tuesday, February 17 in Olympia for the annual Housing and Homelessness Advocacy Day!
The day includes:
Inside information and timely updates on affordable housing and homelessness legislation.

Workshops on how to talk to your elected officials and be the most effective advocate possible.

Meetings with your lawmakers for which you'll be armed with key messages, supporting documents and facts to help share your story.

And an opportunity to feel the power of a strong and growing movement for affordable housing and an end to homelessness.
---
Advocacy Day Location
---
Sponsor the Largest Advocacy Day Dedicated to
Affordable Housing and Ending Homelessness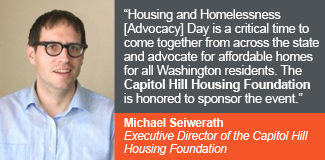 Sponsors make our annual Housing and Homelessness Advocacy Day a reality. Last year, financial support from our sponsors provided the resources to bring 605 participants to Olympia to advocate for more opportunities for an affordable home for everyone in Washington!
Advocacy Day information reaches 600+ attendees, legislators from nearly every district in the state, and even more people through a robust social media presence. Sponsorship helps your organization be a leading voice at Advocacy Day.
We invite you to join us as a sponsor at one of the following levels: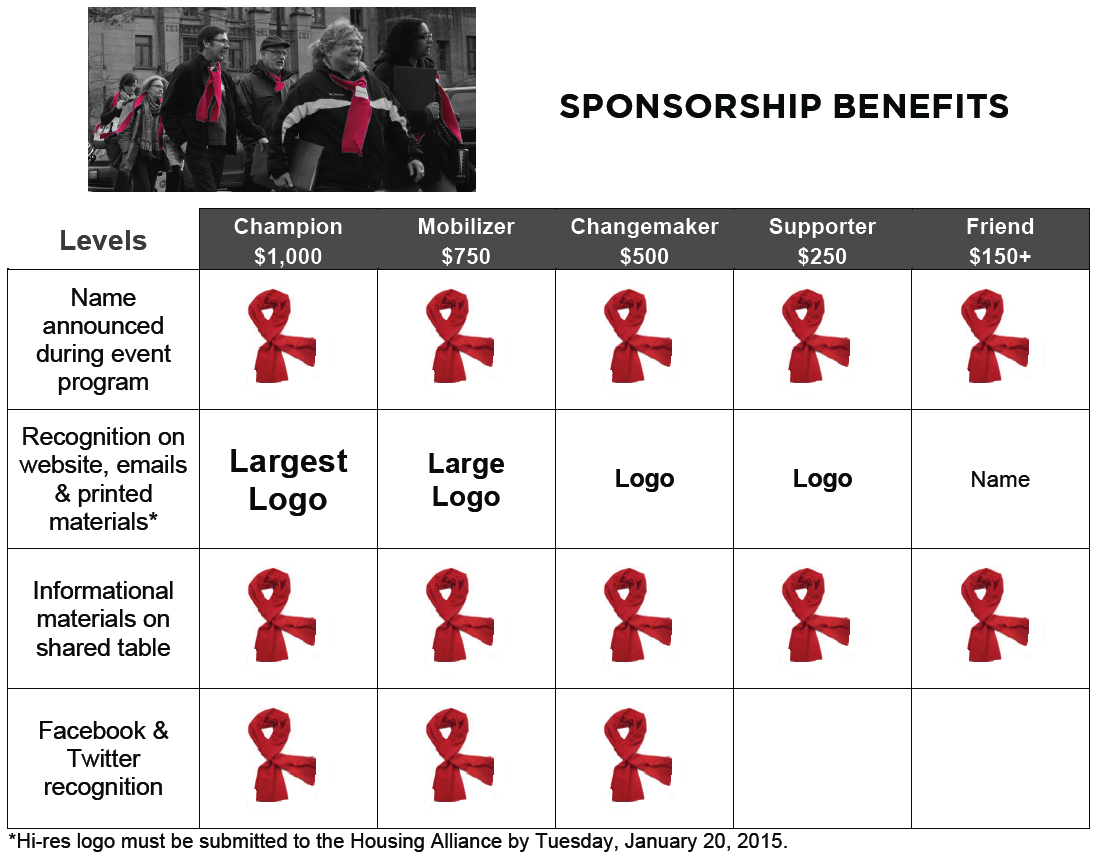 Ready to sponsor? You have three options:
1. To pay by CREDIT CARD, please use this online sponsorship form.
2. To pay by CHECK, please use this online sponsorship form.
3. Download this pdf of the sponsorship form, and return to us.
Thank you!
For more information on how your organization can sponsor Advocacy Day 2015, please email Kate McMullen or call her at 206.442.9455 x201.
Huge Thanks to Last Year's Advocacy Day Sponsors
---
Volunteer for Advocacy Day
Help make Housing and Homelessness Advocacy Day 2015 a huge success! This advocacy day is one of the biggest in Olympia. We expect an even stronger showing this year and are planning an action-packed day. But it'll take many hands to make it happen. With over 600 expected advocates in attendance, we'll need at least 80 volunteers.
You can lend a hand as a volunteer in one of these roles:
Legislative District Leads - coordinate and lead their district group's meetings with legislators.
Advocacy Stewards - fill a range of roles, from staffing registration and resource tables, to orienting advocates to event and program locations, to handing out red scarves and programs or lunches.
We will provide online training in advance of Advocacy Day for all roles.
Interested? Please  email Alouise Urness or call her at 206.442.9455 x203.
---
Social Media and #HHAD2015
The Housing Alliance will be utilizing social media to outreach for Advocacy Day before February 17 and to inform folks who aren't able to make it to Olympia about the day's advocacy developments. We are also using social media to educate advocates about the latest updates and information on our state and federal advocacy priorities.
 
Social Media Day of Action for #HHAD2015
Help us get the word out about Advocacy Day, encourage people to register, and raise awareness about our State Legislative Advocacy Priorities to create affordable homes and end homelessness. If you're on Twitter or Facebook, you can be a huge help in making both Advocacy Day and our ongoing advocacy efforts a success.
 
Twitter #Hashtags
On Twitter, people use the hashtag symbol # before a relevant keyword or phrase (no spaces) in their Tweet to categorize those Tweets and help them display more easily in a Twitter search, like: #sequestration. Also, clicking on a hashtagged word in any message shows you all other Tweets marked with that keyword. For instance, in a Twitter search, you'd see all tweets related to news of #sequestration.
You can read more about how to use Twitter hashtags at their Help Center.
Advocacy Day's hashtag is: #HHAD2015
Please add this to all your tweets related to Advocacy Day leading up to February 17 and the day-of.
 
Twitter @Usernames
If your elected official has a Twitter profile, you can tweet advocacy messages to them. You just need to know their username, which always has the @ symbol at the beginning (no spaces).
For instance, Senator Patty Murray's twitter username is: @PattyMurray.
If you include their username anywhere in the body of the Tweet, then someone at Patty Murray's office is more than likely to see your message to her and maybe even respond back. And if you have room on your tweet, feel free to include our username in the post. The Washington Low Income Housing Alliance username is @WLIHA.
You can read more about how to use Twitter usernames at their Help Center.
 
Twitter and Our Legislative Priorities
Each state and federal item has a unique hashtag that we'll be using throughout the session and even during Advocacy Day to provide up-to-the-minute legislative updates on Twitter. You should use them too, as you advocate for certain items and learn more about where your legislator stands on the issue.
Our Social Media and Advocacy Day Guide has more information about using social media for Advocacy Day and for legislative advocacy beyond February 17. It also has information about using Facebook.
---
Sneak Preview from Advocacy Day 2014
| | |
| --- | --- |
| Click below to check out our Facebook album of pictures from last year's Advocacy Day: | Click below to check out our partner Firesteel's Facebook album of last year's photobooth pictures: |