Webinars and Tools
Learn at Lunch Webinars
Our Learn at Lunch webinars are opportunities to deepen your understanding of our State Legislative Agenda and Federal Legislative Policy Issues. We bring in policy experts who are able to explain the issues in a clear and accessible way. And perhaps most importantly, you can access these noontime webinars from the comfort of your own home or place of work, as long as you have a computer and Internet access.
We just finalized the line-up for our winter Learn at Lunch webinar series and have three opportunities coming up for you to get the big picture download from expert presenters! Click below to register today.
---
Overview of the Legislative Process
Feb 1, Noon - 1pm
Presenter: Kate Baber, Policy and Advocacy Specialist, Washington Low Income Housing Alliance
Join Kate for an inside look at how our budget and policy priorities advance through the legislative process. Learn why we take action when we do, and how to take advantage of the tools on the state legislature's website to track bill progress and more.
View Webinar Here
Download Slides Here
---
Raising Revenue in Washington
Feb 8, Noon-1pm
Presenters: Sumayyah Waheed, Director, All in For WA, and Kelli Smith, Fiscal Policy Associate, Washington State Budget & Policy Center
As lawmakers debate how to adequately invest in schools, what are the options that support not just schools but housing, clean air, and all the foundations of a thriving state? Kelli Smith and Sumayyah Waheed from the Washington State Budget & Policy Center will share proposals to clean up the tax code so that we have more resources to invest in all Washington communities. 
View Webinar Here
Slides Coming Soon
---
Federal Policy Update
Feb 22, Noon – 1pm
Presenters: Sarah Mickelson, Director of Policy, and Joseph Lindstrom, Senior Organizer for Housing Advocacy, National Low Income Housing Coalition
Join us to learn more about threats to federal affordable housing programs and how you can help protect these critical resources. Sarah and Joey from the National Low Income Housing Coalition will give an update on where things stand in Congress and how you can make a difference.
View Webinar Here
Download Slides Here
---
After Cutoff
Mar 15, Noon - 1pm
Presenter: Michele Thomas, Director of Policy and Advocacy, Washington Low Income Housing Alliance
March 8 is the deadline for bills to be voted out of their house of origin, AKA cutoff. Join Michele after cutoff for a rundown of which housing and homelessness bills are dead, which are still alive, and what to expect for the remainder of the legislative session.
View Webinar Here
Download Slides Here
---
Pro tip: Interested in a topic but not available at the time of the webinar? Register anyway and you'll receive a copy of the slides and a recording of the webinar after it's over!

For more Learn at Lunch webinar archives, click here.
 
---

Toolkit to Combat the Criminalization of Homelessness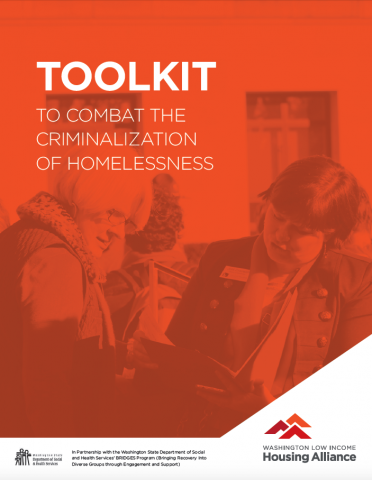 Pervasive myths and stereotypes about chronic homelessness have led to the pursuit of 'solutions' - like criminalization - that only exacerbate the problem and lead to more human suffering. That's why we created the Toolkit to Combat the Criminalization of Homelessness. You can access the toolkit in its entirety, or download individual sections and fact sheets here. 
---
Medicaid Academy
At the 2016 Conference on Ending Homelessness in Spokane, WA, the Housing Alliance held a day-long training to understand Washington's new Medicaid Transformation Demonstration. 
The pre-conference Medicaid training was intended to provide permanent supportive housing providers and those interested in serving this population with information about the new supportive housing services Medicaid benefit. The training provided background information about the Medicaid program and 1115 waivers, information about what supportive housing services CMS would likely approve to be covered by the new benefit, which Medicaid beneficiaries would be eligible, and what steps your agency needs to take in order to utilize this exciting new opportunity.
Find the program information page here, packed with materials and background information on the new Medicaid benefit.