Webinars and Tools
2018 Legislative Session Advocates Calls
Every other Friday during the legislative session, all affordable housing and homelessness advocates are invited to join us for a conference call and webinar to hear the latest updates from Olympia! Our policy team will report back on on the progress of our lead policy priorities, as well as bills from our partner organizations that we are supporting. Click here to register for our final call on March 9.
Listen to previous calls:
Jan 17: Overview of the Housing Alliance's lead policy agenda and a recap on the first week of the legislative session.
Feb 9: A recap of how the Capital Budget was passed, updates on our other lead priorities, and info on bills from partner organizations we're supporting.
Feb 23: An update on housing bills that survived (or didn't survive) policy and fiscal committee cutoffs. Plus, something to celebrate!
---
Learn at Lunch Webinars
Our Learn at Lunch webinars are opportunities to deepen your understanding of our State Legislative Agenda and Federal Legislative Policy Issues. Learn at Lunch features expert guests who explain the issues in a clear and accessible way. And perhaps most importantly, you can access these noontime webinars from the comfort of your own home or place of work, as long as you have a computer and Internet access.
We are excited to announce our fall and early winter Learn at Lunch series! These webinars will introduce you to our 2018 legislative priorities, give you tips and tricks for messaging, and sharpen your advocacy skills in preparation for the 2018 legislative session. Check out the descriptions below, register, and be sure to mark your calendars. Catch up on webinars from the 2017 legislative session on our archives page.
---
2018 Legislative Agenda and Political Landscape
October 18, Noon-1pm
Housing Alliance Policy and Advocacy Director Michele Thomas reviews vital affordable housing and homelessness policy and budget priorities in the 2018 legislative session, and how our strategy to advance these priorities will be shaped by the results of the November 2017 General Election. For a refresher on our policy priorities from last year, check out this webinar.
Watch Recording Here
Download Slides Here

Additional fact sheets:
---
Effectively Communicating Affordable Housing and Homelessness Policy Priorities
November 29, 12:30pm-1:30pm
The Housing Alliance is working to pass a comprehensive set of policies to expand access to affordable homes and reduce homelessness during the 2018 state legislative session. Join this webinar to learn how to craft a persuasive advocacy message and communicate effectively with lawmakers in order to pass these priorities. Communication is a key part of advocacy, and this training will cover common pitfalls to avoid and communication tips that you can use in your legislative advocacy.
Participants are encouraged to watch a recording of the October 18 webinar titled, "The 2018 Legislative Agenda and Political Landscape," before joining this webinar. (link will be available Oct 19).
Watch Recording Here
Download Slides Here
---
The Advocacy Skills You Need for the 2018 Legislative Session
January 4, 2018, Noon-1pm
Advocacy expert Nancy Amidei compares advocacy to your favorite Jazzercise routine; you can never get enough practice and there is always a higher level to make you sweat! Nancy will get us warmed up for the 2018 legislative session with tips on key advocacy tactics like calling the Legislative Hotline, meeting with lawmakers, and delivering testimony on a bill. Bring your own sweatbands and water bottles!
Participants are encouraged to watch a recording of the October 18 webinar titled, "The 2018 Legislative Agenda and Political Landscape," before joining this webinar. (link will be available Oct 19).
View Webinar Here
Download Slides Here
---
Pro tip: Interested in a topic but not available at the time of the webinar? Register anyway and you'll receive a copy of the slides and a recording of the webinar after it's over!

For more Learn at Lunch webinar archives, click here.
 
---

Toolkit to Combat the Criminalization of Homelessness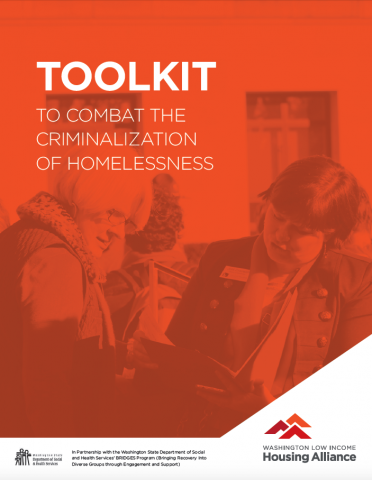 Pervasive myths and stereotypes about chronic homelessness have led to the pursuit of 'solutions' - like criminalization - that only exacerbate the problem and lead to more human suffering. That's why we created the Toolkit to Combat the Criminalization of Homelessness. You can access the toolkit in its entirety, or download individual sections and fact sheets here. 
---
Medicaid Academy
At the 2016 Conference on Ending Homelessness in Spokane, WA, the Housing Alliance held a day-long training to understand Washington's new Medicaid Transformation Demonstration. 
The pre-conference Medicaid training was intended to provide permanent supportive housing providers and those interested in serving this population with information about the new supportive housing services Medicaid benefit. The training provided background information about the Medicaid program and 1115 waivers, information about what supportive housing services CMS would likely approve to be covered by the new benefit, which Medicaid beneficiaries would be eligible, and what steps your agency needs to take in order to utilize this exciting new opportunity.
Find the program information page here, packed with materials and background information on the new Medicaid benefit.